Speciality Minerals/pondMIN+++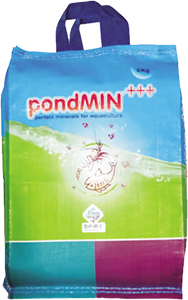 Composition:
Specialty formulation providing essential and critical multi macro and micronutrients in concentrated form fortified with amino acids and growth promoters.
Benefits:
Supply needful essential minerals to cultured species and pond environment to improve growth.
Supports shell formation and pigmentation.
Controls blue shell formation.
Improves survival rate in low saline waters.
Supports stable plankton bloom.
Dosage:
For feed supplementation(shrimp/fish):
Normal dosage: 5 Gms/Kg feed.
Effective dosage: 10 Gms/Kg feed.
For pond treatment: 10 Kgs/Ha (one meter water depth).
Packing:
5 Kg Bag.
Store:
Store in cool and dry place. Avoid direct sun light.